Ms. Robin | Berkeley, California | 510-228-8700 | robinhexmojocurse@yahoo.com
Welcome to
ROBIN'S MOJO
DO YOU NEED HELP?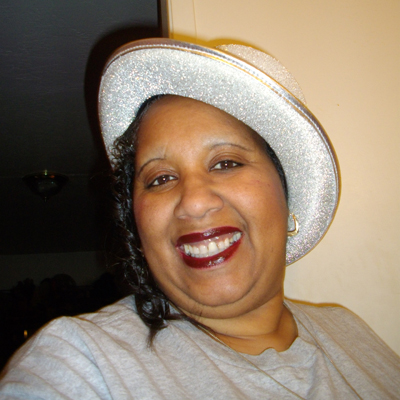 I am Ms. Robin, a traditional hereditary reader, spiritual practitioner, and conjure woman. I am located in Berkeley, California, but I work both in person and via telephone and the internet, so my clients are located all over the United States and all over the world. I can help you, no matter where you are. Spirit knows no boundaries.
Both in-person and by telephone, I provide spiritual training and magical coaching for clients who seek an introduction to hoodoo.
I will help you in the areas of life that trouble you
Love Drawing, Romance, Marriage, Fidelity, and Reconciliation
Prosperity, Money Drawing, Business, and Gambling Luck
Blessing, Cleansing, Healing, and Tranquility
Career Success, Personal Power, Mastery, and Wisdom
Protection From Enemies, Warding Off Evil, and Safe Travel
Jinx Breaking, Uncrossing, Reversing, and Road Opening
Court Cases, Legal Matters, and Keeping Off the Law
Spirituality, Psychism, Mental Influence, and Dreaming
Crossing, Jinxing, Hot Footing, Revenge, and Break Ups
If you wish me to work for you by long distance only, I can perform cleansings, blessings, and empowerments at my altars. I also prepare doll-babies or voodoo dolls to affect the minds and the activities of people whom my clients wish to influence in matters of love, finances, and legal cases.
GIFTED PSYCHIC READER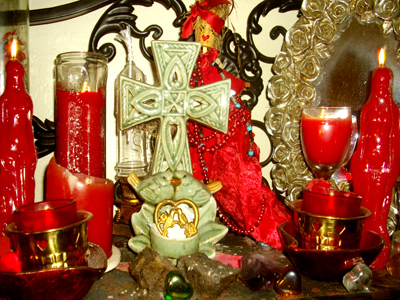 As a reader, I am a natural clairvoyant. During my divinations, I use the tarot cards, a crystal ball, a pendulum, and consult with the Bible and with spirits,
I can perceive things that may be hidden from you, and when I see them, I will tell you the truth, not just what you thought you wanted to hear. I deliver compassionate and accurate clairvoyant and intuitive psychic readings.
I will read for you and provide spiritual answers to all your questions
Tarot Card Readings, by phone
Bibliomancy with the Bible
Psychic and Clairvoyant Reading, by phone
Mediumship and Spiritual Contact with the Dead
Pendulum Readings, by phone
Reading Objects and Photographs for Impressions
Candle Glass and Candle Wax Divination

In addition to reading, I am a teacher. I have led workshops and training sessions through Missionary Independent Spiritual Church in money magic and the traditional African American hoodoo practice of crafting and spell-casting with doll babies.
TRADITIONAL CONJURE WOMAN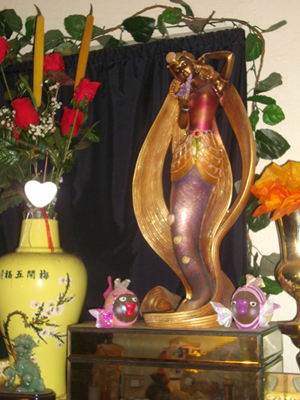 I am here to help you clear away old messes and protect yourself against further troubles. After your initial consultation, and with the agreement of Spirit, I can prescribe traditional herbal teas, herb or mineral baths, hoodoo oils to wear on your body or to use to anoint candle or dress objects, hand-made hoodoo incenses to change the mood of your home, and special spiritual floor washes for cleansing the premises.
I make very strong and effective mojo hands for my clients to carry for spiritual assistance in drawing romance and love, enhancing business success and money drawing through luck at games, obtaining protection from enemies, and winning court cases. While you follow my instructions, I will simultaneously pray for you and cast conjure spells on your behalf at one of my perpetual candle spell altars.
I perform cleansing, protection, and blessing work by long distance for many satisfied clients.
Through the use of hoodoo talismans, rootwork mojo bags, and spiritual magic, I will assist you as we work together with Divine Spirit to make your desires a reality. I am an expert with many years of experience in casting magic love spells and money drawing spells, performing curse-breaking rootwork and hoodoo love conjure, and working court case spells of all types, and I may undertake to get spiritual justice for you if you have been hurt.
Although the tradition of hoodoo spells, spiritual prayer work, and Southern style rootwork springs from the roots of my family heritage, my life in the multi-cultural San Francisco Bay Area means that I am also well practiced in the magical arts and spell-casting methods of many different types of cultural practice, and I serve a diverse clientele who immediately feel at home with my psychic readings and psychic practices.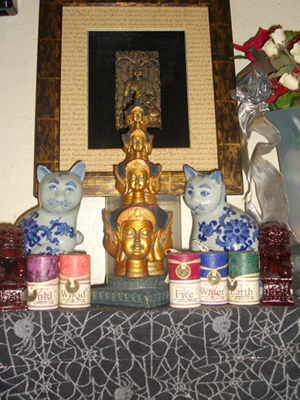 Hoodoo, Conjure, Rootwork, and Spell-Casting I Perform for Clients
Altar Work and Prayers
Candle Spells
Mojo Bags and Hands
Empowerment of Talismans and Amulets
Spiritual Cleansing
Bottle, Jar, and Box Spells
Doll Babies and Voodoo Dolls
Prescribing Herbs, Baths, Powders, Oils, and Washes
Spell Casting
Working with Spirits
I handle each case individually myself and I am always available to assist clients with their spiritual needs.
On my Peace Altar, I burn candles continually for clients who desire personal blessings, spiritual tranquility, reconciliations, happy marriages, peaceful homes, and world peace. This altar is notable for the cut crystal crosses that catch the light of the candles, and reflect it back to all who seek the light. This altar is where I pray to bring an end to crossed conditions and for a return to peace and healing.
On my Love Altar, I burn both pink and red candles. This is where I work for my clients who want love of any kind, including new love, faithful love, better sex, and the blessings of romantic partnership and proposals of marriage. My love candle altar features statuary and curios symbolic of the joys of love and sex, including paired love birds, paired hoodoo lodestones, colorful glass hearts, a doll dressed in red satin, and a cross that symbolizes God's gift of partnership to all who seek it.
On my Cursing Altar, I perform darker works, including jinxes, hot foot work, crossing spells, marriage break-ups, the reversing of evil magic, and spells of justified damnation. In situations where God's justice favors your case, I may be able to go beyond merely helping to uncross you and to remove root work and hoodoo messes that have been thrown for you against your enemies. I will put curses on your enemies only if, after divination and prayer, I am led to sincerely believe that your case is justified in God's eyes.
My Lucky Money Altar, where Hotei the Laughing Buddha and trunk-up elephants preside, is where I set lights for my many clients who play at the casinos. At this altar I also cast spells to unlock blocked or jinxed gambling luck, job-getting, and career success, I am here to help you enjoy the confidence, luck, and power that God intended you to have. My best clients are those who come to me ready to rapidly improve their lives, to win, and to succeed. I enjoy bringing luck to those who play at games of chance because I win often, and I want you to win as well.
ETHICAL, AFFORDABLE, PERSONAL SERVICE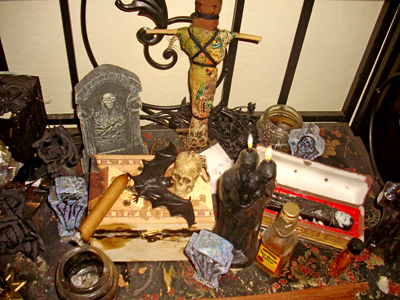 Ms. Robin
Berkeley, California
510-228-8700
robinhexmojocurse@yahoo.com
As an ethical practitioner, I make no guarantees for spiritual activities, spell-casting, or prayers that I perform and complete on behalf of my of clients, but I do guarantee that I will do the work I promise to do, with high purpose and a clean and willing heart. I am honest and if I feel that I can't help you, I won't take your case.
Click Here for
The Rates I Charge,
How to Book a Reading,
How to Schedule Rootwork,
and Additional Services I Offer



I work by telephone and in person. From my home base in the East Bay region of the San Francisco Bay Area, I read for and perform rootworker services for clients all around the world as well as those who are located in home district of Berkeley, Oakland, El Cerrito, Emeryville, and Richmond, in Northern California.
TESTIMONIALS FROM MY CLIENTS
"The reading you gave was awesome, not only because you identified the issues so clearly, but also because I could hear the care and concern in your voice and that meant a lot to me."
"Thank you for the teaching at the Workshop on how to lay out a personal money altar. I had never considered some of the things you explained before, but you made it all very clear to me, and I am going to take your advice and suggestions. Thanks for helping."
"I was so inspired when I saw your money altar that I decided to make one of my own. I took some ideas from you and added my own ideas, and began burning candles on it, just like you told me to do. A week later I won big at the Casino. You have empowered me! I know that magic is about more than winning, it's about Attitude, but the winning is a pretty good way to start!"
"During my reading, you told me that [my husband] was cheating, and that I would get proof soon. It happened just the way you said it would. His cell phone records showed calls to [his girlfriend] and when I asked him, he confessed. You were right also when you said that I would feel better when I found out, and I really do."